Universal bike frame protection – Sublimistick by Slicy
Description
Real beauty treatment for bikes, the Sublimistick is our new Universal bike frame protection for MTB & road. It provide longevity and brightness to your bike.
Completely universal and flexible, it perfectly fit to any kind of bike.
Adaptable on all frames, whatever the size. Add + or – patches to cover maximum surface
Sublimistick Essential (12 patches) :
– 3 patches for the Down Tube
– 1 patche for the Top Tube
– 4 patches for the seats stays
– 2 patches for the bases / chain stay
– 2 patches for the cables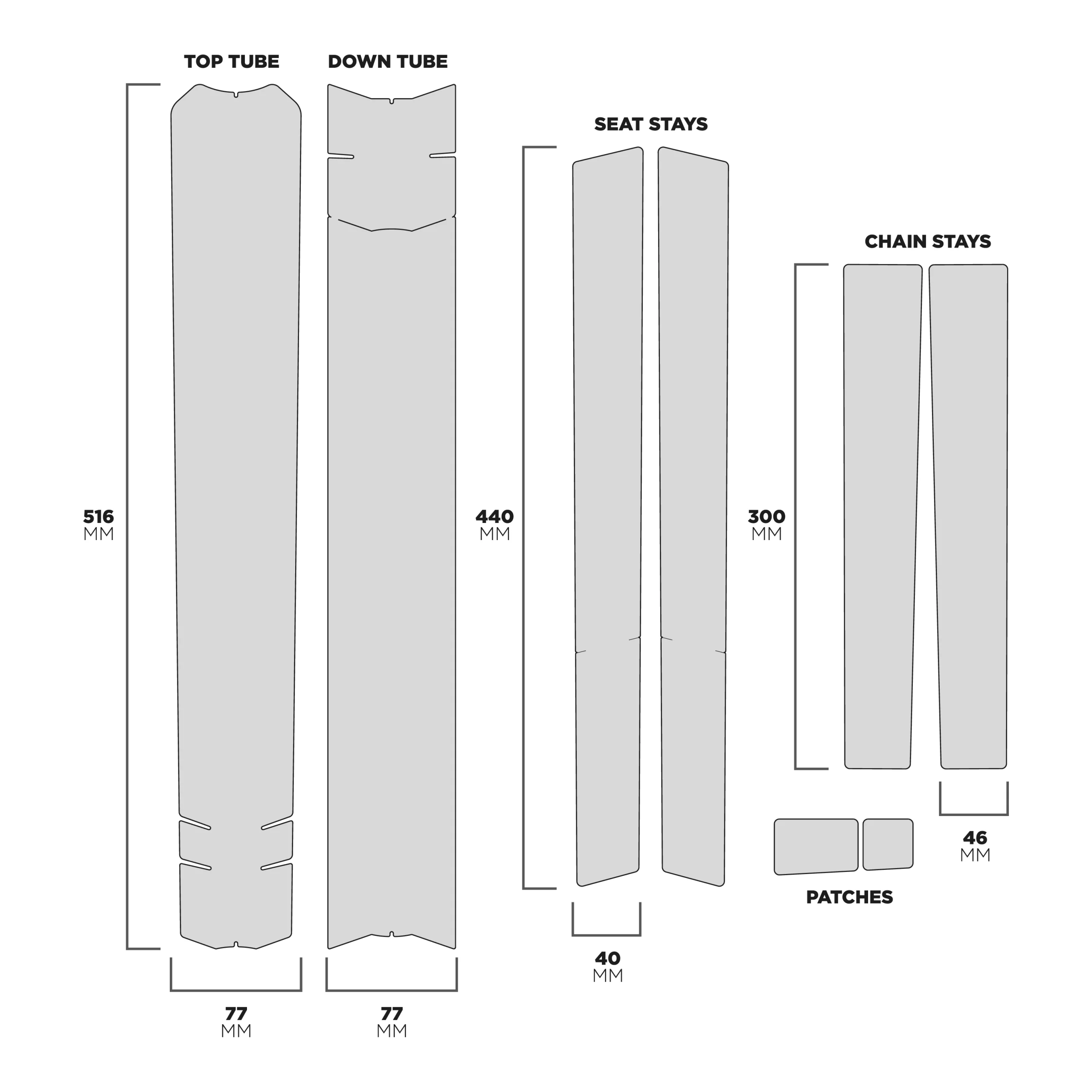 Sublimistick Ultimate (16 patchs) :
– 3 patches for the Down Tube
– 1 patch for the Top Tube
– 4 patches for the seats stays
– 2 patches for the bases / chain stay
– 2 patches for the cables
– 1 patch for the botom bracket
– 1 patch for the head tube
– 2 patches for the seat tube
–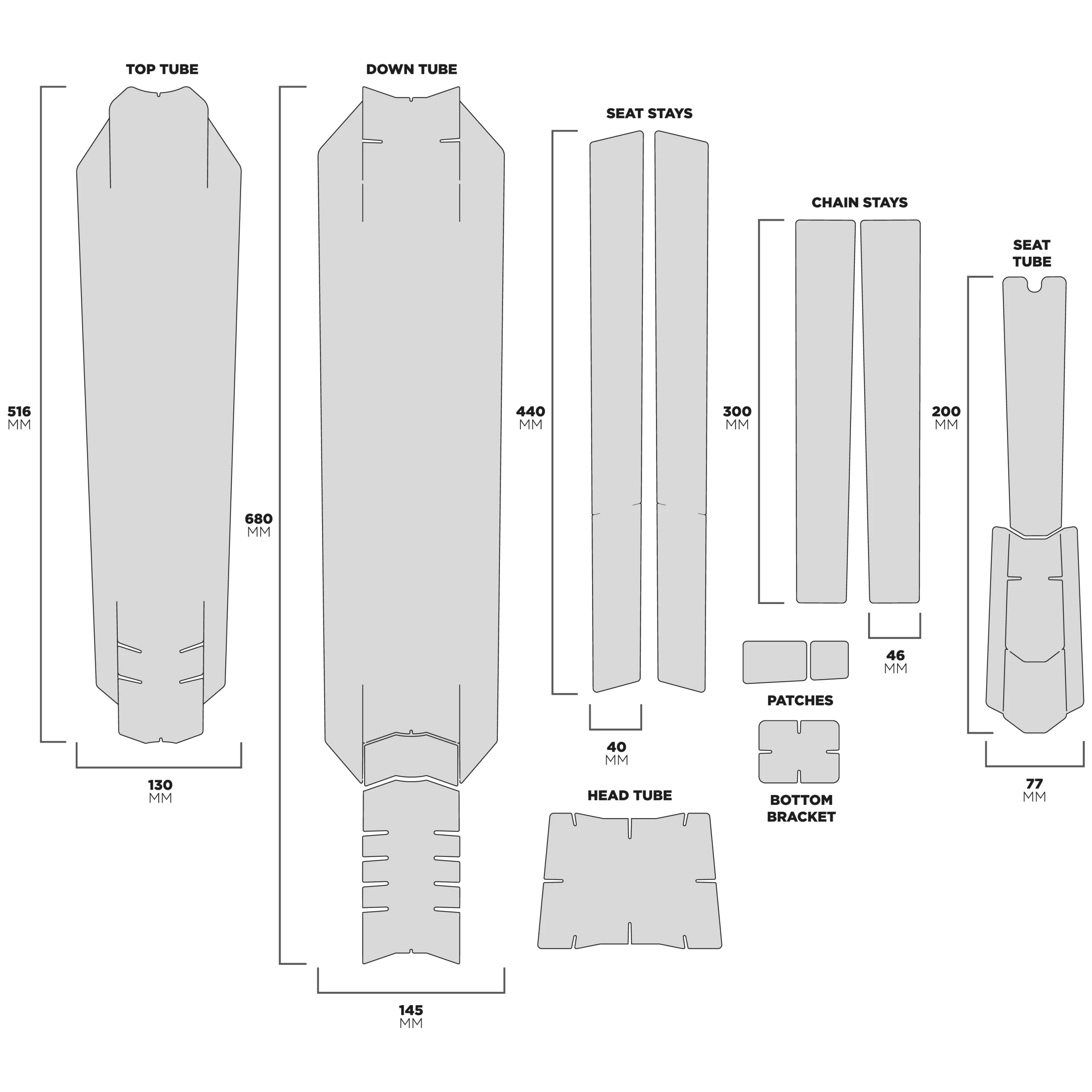 Features : 
– Thickness : 160 micron
– UV protection
– Non-yellowing
– Self-healing property
– Anti-adherent, Self-cleaning
Warning : To be use on smooth paint finish. The final rendering will be not perfect on grainy paint with asperities!
Additional information
Additional information
| | |
| --- | --- |
| Version | Essential 12 patches, Ultimate 16 patches, Roll 5m x 7cm, Roll 10m x 9cm |
| Finish | Glossy, Mat |
Installation
Installation
The installation of a Sublimistick protection kit requires calm and thoroughness. If you are not sure of your skills, we invite you to contact your nearest Slicy dealer for a perfect set-up. Find our dealers HERE
Preparation :
– Make sure you are in a clean and warm, indoor space (17°C to 27°C).
– Clean and degrease your bike paying close attention to every little detail.
– Remove inconvenient components or old decals to facilitate the installation.
– Ensure the bike has been allowed to dry for some hours.
– Fill the spray bottle with our install shampoo. Add 0.5ml for 0.5L of warm water.
– Thoroughly wash your hands.
Installation :
– Identify Sublimistick sections using the bike diagram.
– Spray water to your fingers.
– Peel the section of Sublimistick off and spray water immediately on the sticky side.
– Spray water on the frame's location.
– Apply the wet Sublimistick section to the frame. Center and line up the piece according to the diagram.
– Repositionining is possible if the Sublimistick section is still wet.
To move, peel back, add further water to the frame and Sublimistick section then re-apply in correct location.
– Use the Slicy squeegee to remove water and air. Start at the centre of the Sublimistick section and pull the water and air to the outside.
– Use a microfiber to collect any excess water.
– Wait few minutes and use your fingers to check if all edges are firmly pressed down.
– For a perfect finish, use the hair dryer to dry the Sublimistick sections. Do not overheat.
– Repeat these steps for each section of Sublimistick.
– Kits are designed with a 1 mm gap between Sublimistick sections.
– Let your bike dry in a warm workspace for 24h.
– Do not ride or wash your bike for 24h.
Removal :
– Use a hair dryer to heat the adhesive.
– Peel back a corner and remove remove the section very slowly.
Disclaimers :
– Slicy is not responisble for any damage caused to your bike during installation or removal of the Sublimistick Integral Kit.
– If you have any problems or issues with your Sublimistick Integral Kit, please contact a member of our team at: contact@slicy-products.com.
delivery times
delivery times
Delivery times for products in stock are generally 2 to 5 working days. 
Your tracking number will be communicated to you by email along with the shipping confirmation.